"As if by magic... the shopkeeper appeared."

Mr Benn is an ordinary fellow, living an ordinary life in an ordinary suburban house, at Number 52, Festive Road. One day, Mr Benn receives an invitation to a fancy dress party, and so, donning his bowler hat, he sets off to find a costume to wear. Unable to find a suitable outfit in the usual shops, he turns down a small lane and finds a shop filled with strange and unusual costumes. Inside, Mr Benn asks the fez-wearing shopkeeper if he can try on a suit of red armour; he then enters the changing room, puts on the outfit, and walks through another door... and suddenly finds himself transported back to medieval times. It is the first of many amazing and extraordinary adventures for Mr Benn…

Mr Benn's adventures originally began in 1967 with the book 'Mr Benn – Red Knight', which was written and illustrated by David McKee. After it was published, the BBC commissioned McKee to create a series of adventures for television, and so thirteen fifteen-minute episodes were made; each episode was written and illustrated by McKee, and narrated by the warm and friendly tones of Ray Brooks. Using the magic costume shop, Mr Benn could become anyone - a spaceman, a balloonist, a wizard, or a cowboy, to name but a few - and each story saw him helping people and solving problems using just his wits and intelligence.

The television episodes were originally shown over two years in the 'See-Saw' slot on BBC2, and have since been repeated over sixty times! McKee went on to write another book, '123456789 Benn' in 1970, and later adapted two of the television stories for publication ('Hunter' as 'Big Game Benn', and 'Clown' as 'Big Top Benn'); two more were planned but never appeared, although 'Spaceman' and 'Caveman' were later published in 1993. Then, in 2001, McKee revisited the character for an all-new story entitled 'Mr Benn - Gladiator', which was then turned into a television episode and shown in 2005.

Although Mr Benn was never given a first name on-screen, David McKee himself tells me that he always thought 'William' would suit our bank clerk hero. And whilst it was never made clear how the shopkeeper was able to send Mr Benn on his journeys through time and space, the fact that in 'Gladiator' Mr Benn meets Smasher Lagru, a character whom he has met in contemporary times, can surely mean only one of two things: 1 – that Smasher is also a time-traveller, or 2 – that Mr Benn's adventures are not actually real, but are merely dreams or hallucinations. Personally, I always wondered what else the shopkeeper slipped Mr Benn when he paid a visit to the costume shop…

With rumours of a live-action film going into production sometime soon, starring Ben Kingsley as the shopkeeper, it looks like Mr Benn will continue to visit the costume shop for more of his fantastic adventures for many more years to come.


Mr Benn - Season 1
Mr Benn - Season 2
Mr Benn - Season 3
Mr Benn - Books

Back to the Databanks Main Page -
where you'll find guides to some of the best cult and classic science fiction and telefantasy programmes ever transmitted!



Legal Bit: 'Mr Benn' is licensed by Clive Juster & Associates. The 'Mr Benn' logo and all images from the television series are copyright David McKee unless otherwise stated; music is copyright the original composers and producers; no copyright infringement is intended. All specially created images and text are copyright © Clive Banks; please do not use these without my permission. All rights reserved. No profit is made from this website, and any revenue made from using the banner-links featured goes straight back into the costs of maintaining it, which comes out of my own pocket in the first place. No profit advertising is accepted. This website was created purely to entertain and amuse, and any references to persons living, dead, comatose, in suspended animation, not born yet, or a figment of someone's imagination is purely coincidental. All opinions expressed are my own, so there...



You can buy 'Mr Benn' artwork from www.theanimationartgallery.com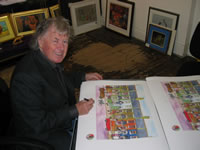 You can also buy VHSs, books and much more on 'Mr Benn', and other classic shows, at:



[Homepage]

[About Me]

[C.V.]

[Gallery]

[What's New]

[Nothing]

[FAQ]

[Contact Me]